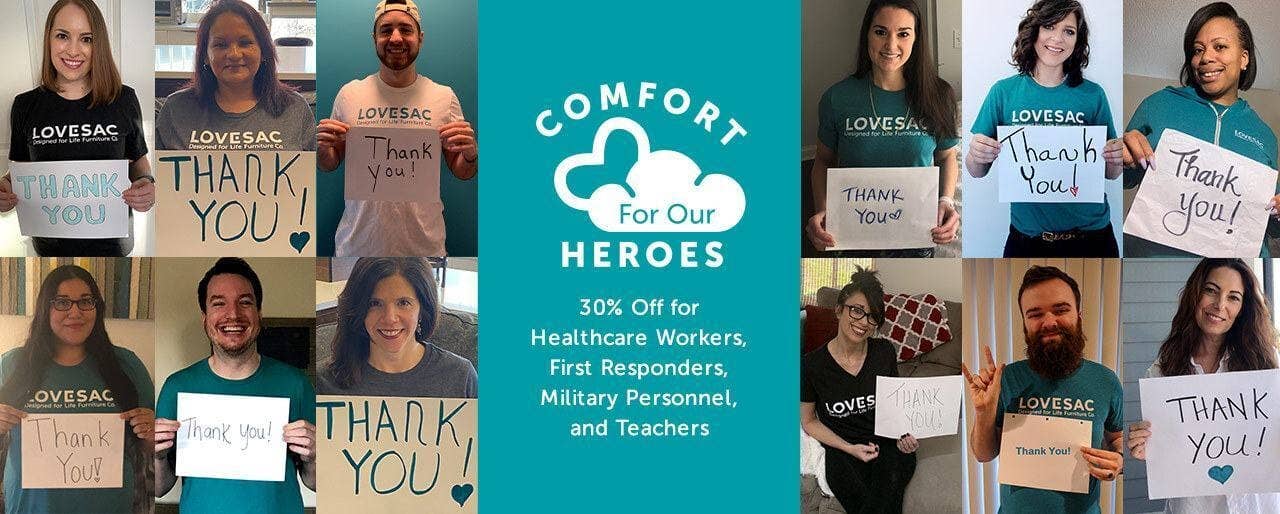 We're incredibly grateful for the men and women who have done so much to help their communities. As our way of saying thank you, we're giving Healthcare Workers, First Responders, Military Personnel, and Teachers 30% off. Apply for your Heroes discount code before 5/16, then redeem your code by 5/31 to get 30% off. Plus, enjoy fast & free shipping and our 60-Day Home Trial.
Heroes Discount Program
Terms & Conditions
Lovesac has partnered with SheerID and will offer a 30% discount on merchandise purchased by active or retired U.S. Service Members and their registered dependents, active First Responders, Teachers, and Healthcare Workers*, either in a Lovesac showroom or on our website (www.lovesac.com), with the redemption of a single-use code acquired from SheerID. SheerID's verification platform can be accessed via Lovesac's website (www.lovesac.com/heroes) and you must complete the verification process between 5/3/21 - 5/16/21 to obtain the one-time use code prior to purchase. No cash or other substitutions is permitted. Discount cannot be used on Sac Shrink Kits, Sactionals Hardware (Feet, Shoes, Clamps, and Hardware Kits), Clearance Items, or Gift Cards. Discount is applied to merchandise total only, no discount applied to sales tax or ancillary delivery/service charges. Offer cannot be combined with any other promotional discounts, and cannot be applied to previous purchases. Single-use codes for this offer can be redeemed from 5/3/21 - 5/31/21.
*Eligible Healthcare Workers include Audiologists, Clinical Coders, Clinical Nurse Specialists, Clinical Officers, Dentists, Doctors Of Osteopathic Medicine (DO), Feldshers, Health Administrators, Hospital Workers, Licensed Practical Nurses, Medical Assistants, Medical Doctors (MD), Medical Laboratory Scientists, Medical Transcriptionists, Nurse Anesthetists, Nurse Practitioners, Nurse Midwives, Optometrists, Pharmacists, Pharmaconomists, Pharmacy Technicians, Phlebotomists, Physician Assistants, Podiatrists, Psychologists, Psychotherapists, Physical Therapists, Radiographers, Radiotherapists, Registered Nurses, Respiratory Therapists, Speech-Language Pathologists, Surgeons, Surgeon's Assistants, and Surgical Technologists.