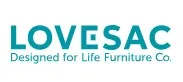 Movie Lounger

| 4 Bases + 4 Sides
A Lovesac original and one of our most beloved Sactionals positions, the Movie Lounger offers you a wide, deep, cuddle-ready seating area that just begs for popcorn and a blockbuster. Once you relax on the Movie Lounger you'll want to stay long after the final credits.
With 4 bases and 4 sides you'll also have the freedom to transform your Movie Lounger into dozens of other seating options your critics are sure to give two thumbs up.
The Perfect Movie Room Furniture (4 Bases, 4 Sides)
LoveSac's Sactionals are a cross between movie room furniture and building blocks. Sactionals consist of two simple pieces, "Bases and Sides," which can be combined in any quantity and in any configuration imaginable to build any furniture desired - no tools necessary. Once connected using the included "Shoes and Clamps," Sactionals are solid, reliable, comfortable, machine-washable, versatile and fashionable sectional furniture. With only the included 4 Bases and 4 Sides, you can create hundreds of movie theater couches, movie loungers, movie room sectional sofas and more. Not to mention four single chairs for game night! The possibilities are endless, and once you own Sactionals, you'll never think about your movie room furniture the same. You can dress your Sactionals with hundreds of machine washable fabrics and colors to make them your own and show off your style. Then when a new season comes along, or your bachelor pad movie theater turns fashionista, just change your covers to match your new and ever-changing décor. The Movie Lounger is one of our most popular configurations, but remember, the Four Cushion Chaise Sectional also makes a Movie Lounger and a lot of other popular configurations with just one additional side piece!