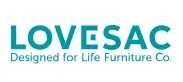 Sofa / Loveseat

| 2 Bases + 4 Sides
Inspired by an apartment dweller who traded up to a house, our 2 Sactionals bases and 4 sides can start with the bases deep-facing for a cozy, loveseat for two.
Turn the bases wide side out and your loveseat becomes a roomier, just-as-comfortable couch. If you have the room, buy a double set and have the perfect seating for you and your guests.
About the Loveseat Sectional Sofa (2 Bases, 4 Sides)
The Loveseat is a staple in your furniture solution, and nothing compares to the Sactionals Loveseat. Why? Because when you get in a fight over which movie to watch one night, you can simply separate the Loveseat into two Corner Chairs and watch the movie you want on the other side of the room! Assuming you have two TV's, of course. Otherwise, you may have to compromise. But what you shouldn't compromise on is your loveseat sofa. With 2 Bases and 4 Sides, you have a great starter set of Sactionals that offer you the versatility you can't find in any other loveseat sofa. Get tired of your covers? Change them. Spill ice cream on the cushion covers? Wash them. Want a movie lounger down the road? Just buy 2 more Bases and you're all set!