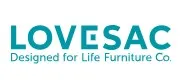 Four Cushion Chaise Sectional

4 Bases + 5 Sides
Our Sactionals Four Cushion Chaise is the sectional style most people buy even when they're buying boring, "just-sits-there" furniture.
Of course when you buy Sactionals, you're not only getting a beautiful and comfortable chaise sectional, you're also getting dozens of amazingly versatile pieces of furniture you can create with your four bases and five sides like a sumptuous lounger style sofa for cozy movie nights, a bed for sudden house guests, an elegant long sofa with matching ottoman for more formal entertaining, or a statuesque L-shaped sofa.
About the Four Cushion Chaise Sectional (4 Bases, 5 Sides)
4 Bases and 5 Sides is the perfect number of pieces to get started with Sactionals. With 4 & 5, you have the ability to create more chaise sofas, chaise chairs, lounge chaises and any other chaise furniture solutions than you'll know what to do with. Because Sactionals are modular furniture and consist of simply "Bases" and "Sides", you can make any sectional sofa you want and then add a chaise to either end (or both!). Remember that one chaise sofa you bought that worked perfectly in one room in your old house, but when you moved to your new place the chaise was on the wrong side? You'll never have that problem with Sactionals, because you can simply move the Chaise to the other side at any time! If you're looking for chaise furniture solutions, Sactionals are the best in the world. And because they're guaranteed for life and the covers are all machine-washable and changeable, you're home decor will never become dated like that old furniture still kicking around in the basement!