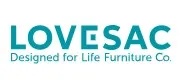 Seven Cushion Chaise Sectional and Ottoman

| 8 Bases + 9 Sides
At the upper echelon of Sactionals possibilities, is our ultra luxurious seven cushion chaise sectional with matching ottoman. When the size and lifestyle demands of a great room, home theater or a substantial family room call for the expansive seating of our seven cushion sectional, you can literally rest assured.
Worthy also of consideration are the dozens of fabrics, textures and colors to compliment your home decor. Custom design consultation is available to you always at no extra cost. Should you ever move and your seating demands change, eight bases and nine sides afford you a nearly limitless array of Sactionals possibilities.
About the Seven Cushion Chaise Sectional and Ottoman (8 Bases, 9 Sides)
The Seven Cushion Chaise Sectional and Ottoman consists of 8 Bases & 9 Sides, giving you enough pieces to build a furniture solution for your entire home. This oversized, super comfortable entertainer's dream is the Sactionals configuration for those with lots of friends or a big family (or both). Media rooms, great rooms, and other wide-open spaces call for this kind of massiveness. Add a couple of sides and turn your sectional sofa with ottoman into a more formal entertaining solution with a full sofa, two armchairs and a double ottoman. Or reconfigure it into a pit that can accommodate an entire slumber party. And never fear – Sactionals covers are machine washable, so drink spills or pizza stains can just be washed away.