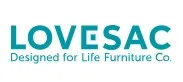 5 Series Sactionals
When the demands of a cozier living space call for smaller size pieces without sacrificing your craving for giant size comfort, look to our 5 Series Sactionals. They give you all the luxury, comfort and versatility of our famous washable, changeable, indescribably comfortable Sactionals yet with a twenty percent smaller footprint than our 6 Series Sactionals.
Of course you'll enjoy the same customer-acclaimed Lovesac quality and the same lifetime guarantee. Our 5 Series Sactionals are the perfect size for tighter spaces including condos, dorm rooms, town homes and apartments.
About 5 Series Sactionals
Metro Sactionals (aka 5 Series), are exactly like their beefier older brother "6 Series" in every way, only smaller. The Bases and Sides of these "Metro Sactionals" are roughly 20% smaller than the oversized 6 Series Sactionals, making them the perfect solution for condos, dorms, townhomes or apartments. But don't be fooled - 5 Series Sactionals are the size of a standard sofa and, depending on your room, may be the perfect solution to fit your space.