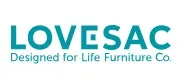 Supersac
Supersac Demo Video | Shop Supersac Covers
The Supersac ® is the Original Oversized Sac ® by LoveSac ®. It is by far our best selling Sac, mostly because of its perfect oversized size. A Supersac can seat 3 adults, and is definitely the best choice for the person who has always wanted an Oversized Sac but was unsure which size to get. It will not disappoint. The ultimate spectator athletic supporter, Supersacs are for super fans.
Seats 2+ Adults

6' wide; sits approximately 3' high

70 - 75 lbs.

Shipping Duffel Bag: 31" x 19" x 19"
About the SuperSac
The SuperSac is the original Sac that made us famous. The SuperSac puts every other giant bean bag to shame, with its perfectly built, oversized shape comfortable for 2 or even 3 adults, nobody regrets buying a SuperSac. This giant "bean bag chair" (as some insist on calling it, though it's quite offensive to the SuperSac itself to be referred to as such), is filled with over 65 lbs. of premium, shredded Durafoam, guaranteed never to go flat. Huge bean bag chair, big bean bag, large bean bag, bean bag couch and other such terms don't even begin to describe the quality or craftsmanship that goes into an authentic SuperSac. And because you can change the cover as often as you like to match any changes in your home decor or just to mix things up, chances are that you'll own your SuperSac for life.