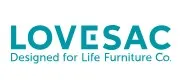 Supersac - Covers Only
The Supersac ® is the Original Oversized Sac ® by Lovesac ®. It is by far our best selling Sac, mostly because of its perfect oversized size. A Supersac can seat 3 adults. It will not disappoint.
Seats 2+ Adults

6' wide; sits approximately 3' high

65 - 70 lbs.

Choose any of the washable, removable Supersac Covers below!