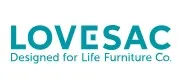 Pillowsac - Covers Only
Watch the PillowSac Demo Video
The most versatile Sac ® made. The PillowSac is a giant rectangle that's the exact size of a double bed for a great guest rest. It also fits perfectly on top of a Rocker Frame to make sleek and sexy seating for two, can be leaned up against a wall or turned on its side to make a peapod. Whichever way you choose to use it, the PillowSac makes your pad a palace.
Seats 2

4 ½' wide x 6 ¼' long; sits approximately 2' high

30 - 35 lbs.

Choose any of the washable, removable Pillowsac Covers below!