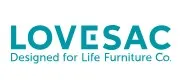 Gamersac - Covers Only
The Gamersac™ is the perfect Sac ® for any teenager or kid who's ready to sit back and game out. Push back into it and you're locked and loaded with that perfect back support for vanquishing enemies. Guaranteed to result in sore thumbs before a sore butt. If you don't have a Gamersac, you might as well just play Solitaire on your PC.
Seats 1 Teenager or Child

3' wide, sits approximately 1' high

Previously known as the "Lotolove"

Choose any of the washable, removable Gamersac Covers below!