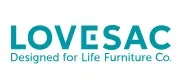 The BigOne - Covers Only
The BigOne™ says it all. Weighing in at over 90 pounds, the BigOne is actually larger than some rooms and seats more people than most cars. Here you will find all of the latest and greatest Lovesac Covers for your BigOne.
Seats 3 Adults

8' wide; sits approximately 3' high

90 - 95 lbs.

Choose any of the washable, removable BigOne Covers below!