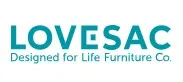 Sacs
It's not a damn beanbag! Lovesac® is the creator of the original Oversized Sac®, designed to be of the highest quality. Everything else is just a cheap knock-off. More than a quarter-million Lovesacs have been sold since 1998.
Sac Inserts (Khaki) are filled with premium shredded DuraFoam and are guaranteed for life never to go flat, break or tear. Sacs are shrunken to 1/8th their size for easy shipping and handling. Machine washable, changeable Sac Covers and accessories come in a dozen fabrics and colors.
About Sacs
LoveSac is the original creator of the oversized Sac. Some people still refer to them as bean bags or bean bag chairs, but Sacs are so much more than that. To start, Sacs aren't filled with beans like they were in the 1980's – they're filled with high-quality Durafoam that's guaranteed for life never to go flat. Bean bags have historically been cheap, uncomfortable bags for kids or the playroom. Sacs are very different, and our luxury Sacs look as good in your living room as they do in your home theater. Another difference between Sacs and bean bags is that Khaki Sacs are designed to be used with a variety of washable, removeable covers with accessories that match. Never compare a bean bag or a cheap knock off to a Sac – there's no comparison to the original LoveSac.