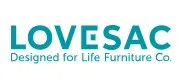 Other Comfy Stuff
Other Comfy Stuff is our answer to taking a little Lovesac comfort with you wherever you go.
From the original Footsac™, with its Lovesac-exclusive pocket that keeps your toes toasty warm in the winter, to the "I Want Your Body Pillow," the absolutely best body pillow on the planet earth, Lovesac's Other Comfy Stuff line is pure indulgence.

There are no products matching the selection.